EAST MEETS WEST
Painting by Bill Curry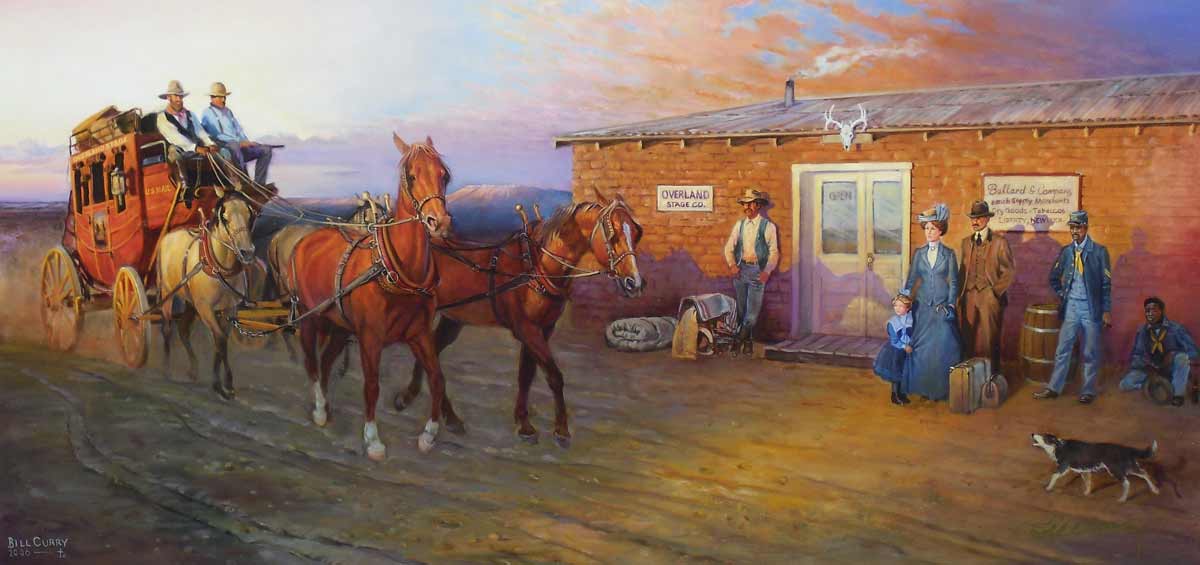 "East Meets West", depicts the settlement of Liberty, New Mexico Territory, circa 1887.
The little settlement was located approximately three miles north of Tucumcari. It set just outside of Baca Location No. 2, (land owned by the Red River Valley Company, later known as the Bell Ranch) and was just a little ways northwest of where the Dawson Railroad crosses the Pajarito Creek. It consisted of only a hand full of rock and adobe houses and store buildings.
Liberty was the first settlement in Quay County, also known as "Tierra Blanca", located almost due south of Fort Bascom. It came into existence during the Indian wars around 1864. Its name "Liberty" was established in accordance with military regulations stating whiskey could not be sold within five miles from Fort Bascom. The soldiers, on their off-duty hours, faced no restrictions; being at "liberty" to do as they pleased, therefore, the settlement was named in their behalf.
Fort Bascom was Headquarters for Company I, First New Mexico Volunteer Calvary, and Company F, 7th U.S. Infantry, a black unit for the most part, and held in high esteem.
As early as 1879, Liberty became a regular stage stop for the Overland Stage Company. The stage traveling along the Ozark Trail, from points east, followed the creek where it joined the Canadian River and stopped at Liberty. Horses could be watered, fed, rested and passengers were able to find meals and rest before going on their way to Las Vegas, New Mexico.
The E. D. Bullard General Store at Liberty served as the Post Office, Dry Goods Store, Saloon, Ticket Office and meeting place for local ranchers, cowboys, sheepherders and outlaws. The only place that whiskey and tobacco was available to the soldiers stationed at Ft. Bascom. The little settlement of Liberty existed until the railroad was constructed and the founding of Tucumcari on November 20, 1901.
The painting depicts a young family traveling from the east, and a cowboy awaiting the arrival of the early morning stage, along with two soldiers from Ft. Bascom, on liberty. Liberty Mesa is also visible in the background.
MAGENTA SUNSET
Painting by Bill Curry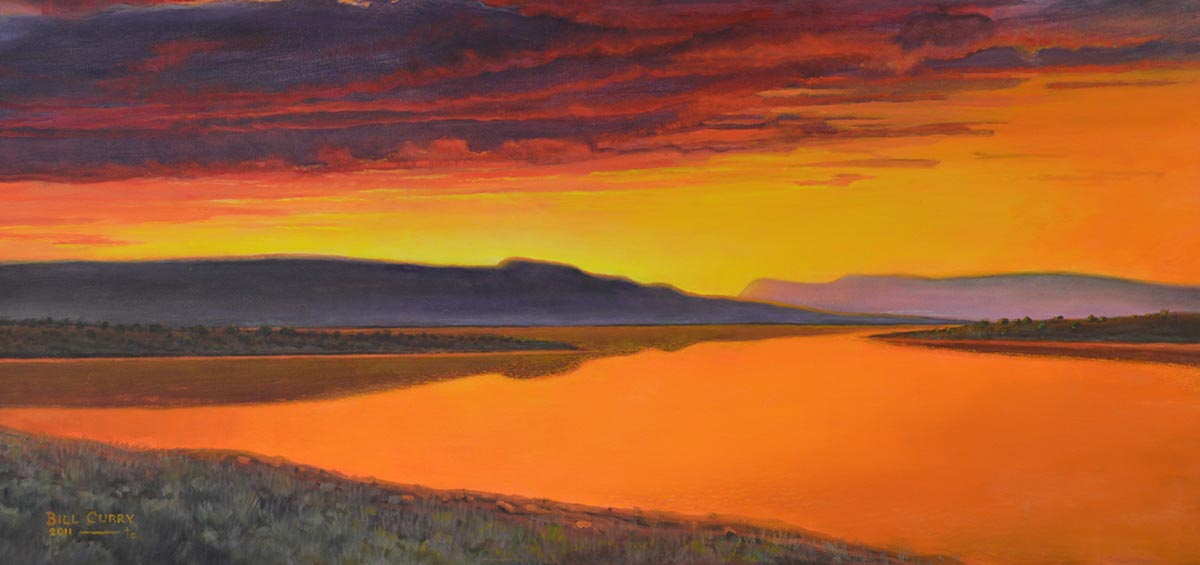 "Magenta Sunset" depicts one of the many gorgeous and breathtaking sunsets which can be enjoyed anywhere in eastern New Mexico. The location of this painting is at Ute Lake, southwest of Logan, looking across a peaceful cove which reflects the yellow-golden warmth of the setting sun. It is framed by a back-drop of deep cobalt blue and pastel mesas all in harmony with the rhythm and motion of the passing purple and magenta clouds.